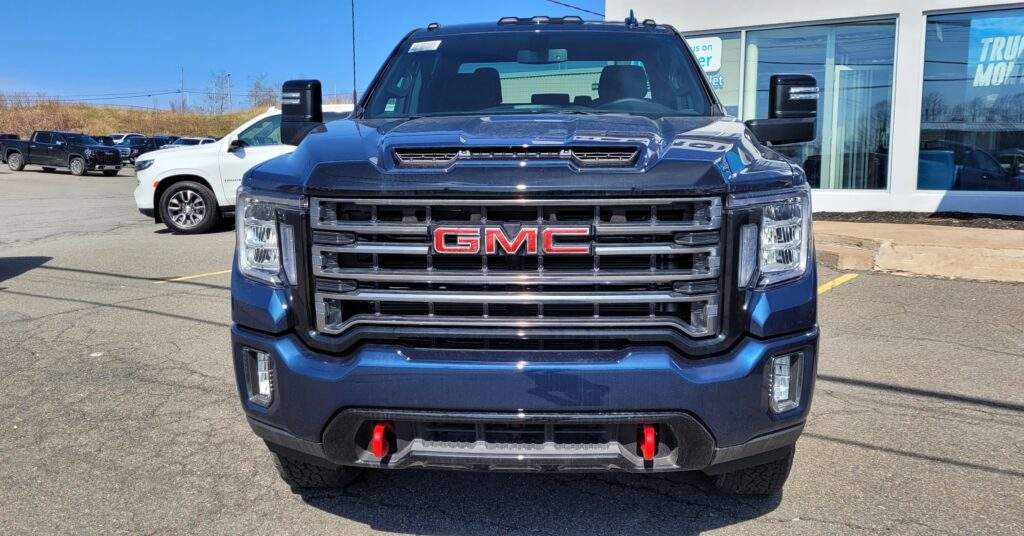 Pickup Trucks GMC
GMC is a division of the General Motors car company that specializes in the manufacture of premium pickup trucks and other utility vehicles. GMC is General Motors' second best-selling brand in the United States and with good reason too.
GMC trucks generally feature advanced engineering, innovative features, power, efficiency, comfort, and reliability.
If you are in the market for a new pickup truck, GMC has a wide range of small pickup trucks light-duty, medium-duty, and heavy-duty trucks that include the Canyon series, Sierra 1500, and the Sierra Heavy Duty (HD) series.
Below, you will find more information on what to expect from the different series of GMC pickup trucks:
GMC Sierra 1500
It is hard to find a ranking of best pickup trucks in America that does not include a GMC Sierra 1500 truck.
The Sierra 1500 series falls within the light-duty end of the spectrum and the 2024 version includes innovative features such as:
The world's premier 6-function Multipro Tailgate for improved loading, unloading and cargo box access
ProGrade trailering system with an in-vehicle Trailering App
Leather-wrapped steering wheels
Automatic locking rear differential
Sound absorbing technology in the interior for a quieter and more comfortable driving and riding experience
3 different storage options (seat storage, under-seat storage and front storage)
When it comes to performance and capability, you may expect the following features on a 2024 Sierra 1500 pickup truck, depending on the specific model:
A maximum of 15 camera views for better truck and trailer monitoring
A horsepower of between 285 HP and 420 HP
A maximum towing capacity of 11,800 pounds
A maximum payload capacity of up to 2,250 pounds
7 engine options (including: Gas V6, Turbo, Turbo Diesel and EcoTec®3 V8 engines)
6-speed and 8-speed automatic transmissions
2-wheel and 4-wheel drive options
First-in-class 2-speed AutoTrac transfer case with an active automatic 4-Wheel Drive system that allows drivers to smoothly shift from 2-wheel drive to 4-wheel drive or vice versa.
Best-in-class cargo 6 ft bed volume
Premier carbon-fiber composite bed
Sierra 1500 pickup trucks are also available as regular cabs or double cabs. The regular cabs seat 3 while the double cabs can seat up to 6 people.
GMC Sierra 1500 Pickup Truck Models and their Prices.
Customers can choose from 5 different Sierra 1500 pickup trucks.
SLE
Elevation
SLT
AT4
Denali
The price of the SLE, Elevation, and SLT pickups starts from $41,400 while the AT4 model will set you back at least $54,700.
The Sierra 1500 is the most luxurious and expensive trim with prices starting at $55,800.
GMC Canyon
GMC Canyon is a pickup truck GMC has been making since 2004. This pickup falls under the mid-sized range of GMC trucks.
Therefore, Canyons are smaller, less powerful, and less capable than the Sierra 1500 series. Nonetheless, GMC Canyon pickup trucks still maintain the reliable and premium nature of GMC trucks.
With regard to performance and capability, GMC Canyon pickup trucks feature:
2-wheel drive and 4-wheel drive options
A maximum payload capacity of 1,578 pounds
A towing capacity of up to 7,700 pounds
A horsepower of up to 308 HP
Hill Descent control on the AT4
2 engine options (Turbo Diesel 4 cylinder and V6 gas engines)
6-speed and 8-speed automatic transmission options
You can choose between four Canyon trims:
Elevation Standard
Elevation
AT4
Denali
Generally, the Canyon series is less expensive than the Sierra 1500 series.
Elevation Standard and Elevation are the most affordable models, with prices starting from $26,800.
In contrast, the Canyon AT4 costs at least $38,400 while the Canyon Denali pickup truck costs at least $41,200.
GMC Sierra HD
When it comes to heavy-duty pickup trucks, GMC has the Sierra HD series.
Pickups trucks under this category are bigger, more powerful, and more capable than the Canyon and Sierra 1500 series.
It is also the most expensive category of GMC pickup trucks.
Some of the performance-based features to expect on Sierra HD pickup trucks include:
6-speed and 10-speed automatic transmission options
A horsepower of up to 445 HP
A hauling capacity of 30,990 pounds
A payload capacity of over 6,374 pounds
Two engine options (including gas V8, turbocharged diesel V8)
Standard 6-Function Multipro Tailgate
Standard ProGrade Trailering System
Standard Digital Variable Steering assist
Standard Autotrac ® 2-speed transfer system
Standard 4-wheel drive
Available hill descent control system
The Sierra HD series has five available trims:
Sierra HD
SLE
SLT
AT4
Denali
Sierra HD, SLE, and SLT are the most affordable HD pickup trucks from GMC.
The starting price for these trims is $37,700. The AT4 trim costs at least $59,100 while the Denali costs at least $65,500.
We also just released this article not too long ago What Are The Most Economical Pickup Trucks of 2021
Conclusion
When it comes to the GMC Truck you have plenty of trim levels to choose from for all of your GMC needs.
With the GMC truck line, you can start at the base model if you only looking for a work truck all the way up to the luxury models to satisfy your pickup luxury needs.
If you are looking for a light-duty truck all the way up to the heavy-duty truck line with GMC we are sure you will find the truck that best suits your needs.
We hope you enjoyed this post on Pickup Trucks GMC