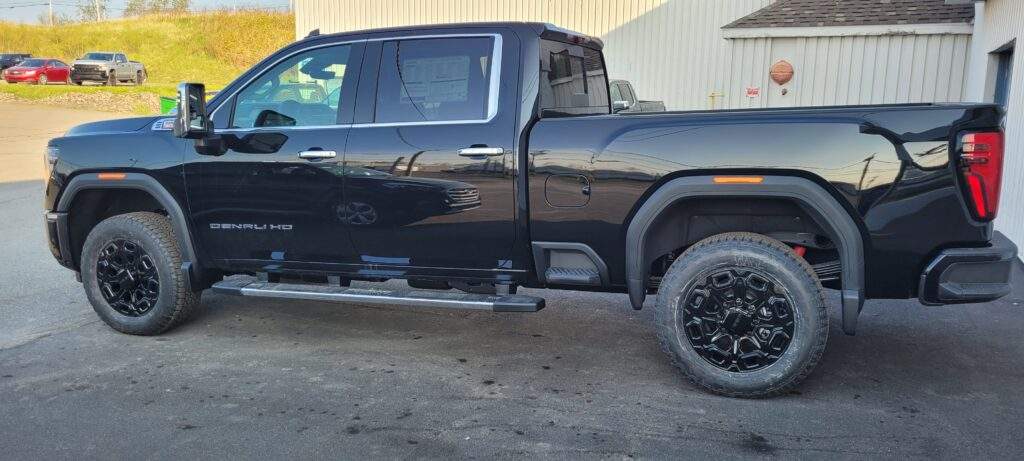 Get Excited for the Future: Introducing the 2024 GMC Sierra
If you're in the market for a pickup truck, chances are high that you want a truck that can tow and handle wide range of duties with little difficulty.
That's where the 2024 GMC Sierra comes in.
Discover the truck that everyone's talking about – versatile, powerful, and ready for anything.
Get ready to learn all about its capabilities.
Sleek Exterior Design
GMC has been known to produce some of the most imposing trucks in the market, and their latest release doesn't disappoint.
The 2024 GMC Sierra would embody a sleek updated exterior with upgrades to its lighting design with LED headlights and taillights.
One of the most striking features of the 2024 GMC Sierra is its bold new design.
With a more aggressive grille, sleeker body lines, and updated lighting, this truck is sure to turn heads on the road.
Not only does it make a bold statement on the road, but it also improves aerodynamics for better fuel efficiency and a smoother ride.
The spacious and luxurious cabin comfortably seats up to five passengers and features cutting-edge technology to keep you connected and entertained on the go.
Don't settle for an ordinary truck – experience the Sierra difference.
Performance
Of course, no pickup truck would be complete without impressive performance capabilities, and the 2024 GMC Sierra delivers in spades.
With a range of powerful engine options, including a next-generation Duramax diesel engine, the Sierra can tow and haul with ease.
The truck is also designed to handle extreme weather conditions and rough terrain, thanks to features like an updated suspension system and a new electronic locking rear differential.
To feed off the demand for improved power and performance, the 2024 GMC Sierra would offer both a gas and diesel engine option designed with maximum torque and engine power.
The anticipated gas engine will boast a 6.2-liter V8, delivering a mighty 420 horsepower.
As for the diesel option, it will feature a 3.0-liter Duramax Inline-6 engine that is built to handle different weight loads, or you can also get the mighty 6.6-liter Duramax diesel with 470 horsepower and 975 ft-lb of torque.
The transmission for both engine options would likely come with a standard 10-speed automatic system that would convey improved mileage and fuel efficiency with its Allison dependability.
Technology
In addition to its impressive design and performance, the 2024 GMC Sierra is loaded with the latest technology features.
Get ready to experience the latest technology in the upcoming truck as it comes packed with GMC's state-of-the-art Infotainment system.
Explore new possibilities with Apple CarPlay and Android Auto support, and enjoy seamless connectivity with the high-resolution touchscreen display.
Other notable tech features include a 360-degree camera system, integrated trailering controls, and an advanced sound system that delivers crisp, clear audio no matter where you are in the cabin.
Customization
Of course, every truck buyer has their own unique needs and preferences, and the 2024 GMC Sierra is designed to meet them all.
The truck will be available in a range of trim levels and options packages, allowing buyers to choose the features and capabilities that matter most to them.
Are you in need of a reliable work truck or a top-of-the-line luxury model?
Look no further than the Sierra.
Plus, with a range of custom options like special paint colors and aftermarket accessories, you can truly make your Sierra your own.
Advanced Safety Features
Given GMC's focus on ensuring their buyers' safety, we expect that the upcoming 2024 GMC Sierra would come with a plethora of advanced safety features, such as the much-needed blind-spot monitoring system, frontal collision warning system, lane departure warning system, rearview camera systems, adaptive cruise control, and much more.
Spacious Interior Cabin
GMC has made big strides when it comes to the interior designs of its trucks, and the 2024 GMC Sierra will probably keep up the trend.
It is expected that the cabin would sport heightened comfort, a more intuitive and user-friendly control panel screen, and more significantly, a conscious effort is being made to provide an ample amount of storage space.
The legroom for passengers and backseat storage would be ample due to an extended cab space with a four-door design that will also feature an improved noise reduction system.
Advanced Infotainment System
The infotainment system is expected to incorporate more intuitive software and hardware updates, such as wireless Apple CarPlay and Android Auto connectivity, a premium surround sound system, voice control, navigation, and more.
With these in place, the 2024 GMC Sierra fits the profile as a tech-savvy vehicle designed to keep up with the demands of today's generation.
Conclusion
Overall, the 2024 GMC Sierra promises to be one of the most impressive and versatile pickup trucks on the market.
With a striking new design, impressive performance features, and state-of-the-art technology, it's built to exceed your expectations.
With endless customization options, you can make it truly your own.
We hope you enjoyed this post on Get Excited for the Future: Introducing the 2024 GMC Sierra