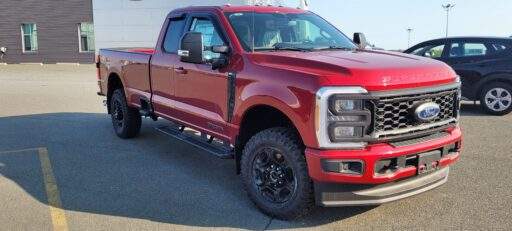 What Truck Has 21000 lb Towing Capacity
If you're in the market for a truck that can tow a hefty 21,000 pounds, then you have come to the right place.
There are a number of different trucks on the market with 21,000 lb towing capacity – it just depends on what kind of truck and make you are looking for.
Within this post, we will analyze a selection of top-tier trucks renowned for their ability to handle substantial weight, while delving into their distinctive features.
Ford F-350 Super Duty
The Ford F-350 Super Duty stands out as a highly sought-after choice in terms of towing capacity, making it a favored model among consumers.
This truck has a maximum tow rating of 22,000 pounds when properly equipped with its 7.3L V8 engine.
The F-350 also offers an impressive payload capacity of 8.000 lbs so you can haul heavy loads without worrying about overloading your vehicle.
Moreover, this truck is equipped with cutting-edge safety features, including Pre-Collision Assist with Automatic Emergency Braking and Blind Spot Information System (BLIS), designed to ensure the safety of both occupants and cargo during your journeys.
Chevrolet Silverado 3500HD
Engineered with durability as a primary focus, the Chevrolet Silverado 3500 HD impresses with its remarkable towing capabilities.
With its robust 6.6L Duramax Turbo Diesel engine and an exceptional 975 lb.-ft of torque, this powerhouse can handle a maximum towing capacity of up to 36,000 lbs.
This model also offers an impressive payload capacity of 7,442 lbs so you can carry more than enough material wherever your work takes you– perfect for tradespeople or those who require heavy-duty transport solutions!
The Silverado 3500 HD also includes driver assistance features such as Adaptive Cruise Control and Enhanced Forward Collision Alert that help keep drivers safe on their travels.
Ram 3500 Heavy Duty
The Ram 3500 Heavy Duty is another great option for those looking for a powerful truck capable of handling up to 37,090 pounds in tow weight.
With its formidable 6.7L Cummins Turbo Diesel engine generating an impressive 1000 lb.-ft of torque, this model achieves a maximum tow rating of 37,080 lbs.
Additionally, it offers a substantial payload capacity of 7,680 lbs, making it an ideal choice for transporting sizable objects or hauling heavy machinery within the city limits.
Ram 3500 Heavy Duty includes advanced safety features like ParkSense Rear Park Assist System and Lane Departure Warning Plus that help ensure drivers stay safe while out on roads or job sites.
However, this truck doesn't rely solely on its power; it also presents an abundance of creature comforts.
Step into its spacious interior, where you'll find delightful features such as heated leather seats, dual-zone climate control for personalized comfort, and a state-of-the-art 12″ touchscreen infotainment system equipped with Apple CarPlay and Android Auto compatibility, ensuring a seamless connectivity experience.
It also comes standard with advanced safety features like Blind Spot Monitoring and Pre-Collision Assist with Automatic Emergency Braking that help keep you safe on the road.
Conclusion
When it comes to finding a truck with 21000 lb towing capacity there are many options out there depending on what type or make you prefer!
The Ford F-350 Super Duty offers an impressive payload capacity of 8000 lbs alongside its maximum tow rating; whereas the Chevrolet Silverado 3500HD boasts a max tow weighting up to 36,000 lbs along with driver assistance features.
Lastly, the Ram 3500 Heavy Duty is perfect for transporting large items or hauling heavy machinery at 37,090 lbs in tow weight plus 7,680 lbs in payload capacity!
No matter which model fits your needs best all three offer great power capability combined with enhanced safety measures ensuring peace of mind when tackling any job!
We hope you enjoyed this post on What Truck Has 21000 lb Towing Capacity