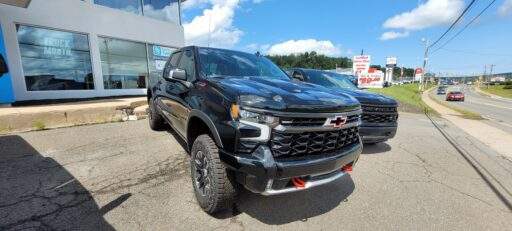 All You Need to Know About the 2024 Chevy Silverado
The 2024 Chevy Silverado is a highly-anticipated truck that's expected to bring new features and technology to the market.
For truck buyers, the 2024 Chevy Silverado is a highly anticipated release, and it promises to be a great Silverado truck like the last ones that were before it.
Engine Options
The 2024 Chevy Silverado is expected to feature a broad range of engine choices.
Most Chevy Silverado models will come with the standard 2.7-liter turbocharged 4-cylinder engine with 310 horsepower and 420 lbs of torque.
Those who opt for higher-end models can expect a 5.3-liter V8 engine with 355 horsepower or a 6.2-liter V8 engine with up to 420 horsepower and 460 torque.
Drivers also have the option of choosing a turbocharged diesel engine, which promises to offer the towing power of a V8 engine with the fuel efficiency of a smaller engine it will come with 305 horsepower and 495 torque.
Towing and Payload
The towing capacity of the new Silverado will be up to 13.300 pounds for the 6.2-liter powerhouse, and the 5.3-liter will be capable of 11,500 pounds.
With the 4-cylinder engine option, you can still get up to 9500 lbs of towing.
When it comes to payload it will come with some really decent ratings with 1870 lbs of payload up to 2280 lbs.
Silverado Bed Sizes
Short Bed
This is the smallest bed option and is often referred to as the "standard bed."
It typically measures around 5 feet 10 inches in length.
This bed size is popular for daily commuting and urban driving, as it offers a balance between cargo capacity and maneuverability.
Standard Bed
The standard bed, also known as the "regular bed," is usually around 6 feet 7 inches in length.
It has a good compromise between bed length and overall vehicle size, making it suitable for a wide range of tasks, including light to medium hauling and towing.
Long Bed
The long bed is the largest option and is ideal for heavy-duty hauling and towing.
It typically measures around 8 feet 2 inches in length, offering maximum cargo capacity but can be less maneuverable in tight spaces.
Silverado Design
The design of the 2024 Chevy Silverado is expected to be more modern and sleek than its predecessors.
It'll feature an updated exterior with a new grille, bumper, and headlights.
The interior is also expected to be more spacious with new technological features that'll enhance the driving experience, including driver assistance technologies.
Technology
The 2024 Chevy Silverado is expected to be equipped with advanced technology.
The infotainment system is expected to feature larger screens for the digital gauge cluster and a more visual experience for the infotainment screen.
Other expected technological features include WiFi connectivity, adaptive cruise control, blind-spot monitoring, and lane-keeping assist.
Pricing and Release Date
It's currently unknown how much the 2024 Chevy Silverado will cost.
However, it's expected to be priced competitively with other trucks in its class.
The truck is expected to be released in late 2023.
It's important to note that pricing and release dates are subject to change.
Conclusion
With an upgraded design, powerful engine choices, advanced features, and a modern and user-friendly interior, the 2024 Chevy Silverado is sure to impress truck buyers.
While the exact price and availability are still unknown and if you are looking for a new pickup truck that combines power, performance, and technology you will never go wrong with this pickup truck for your next purchase.
We hope you enjoyed this post on All You Need to Know About the 2024 Chevy Silverado