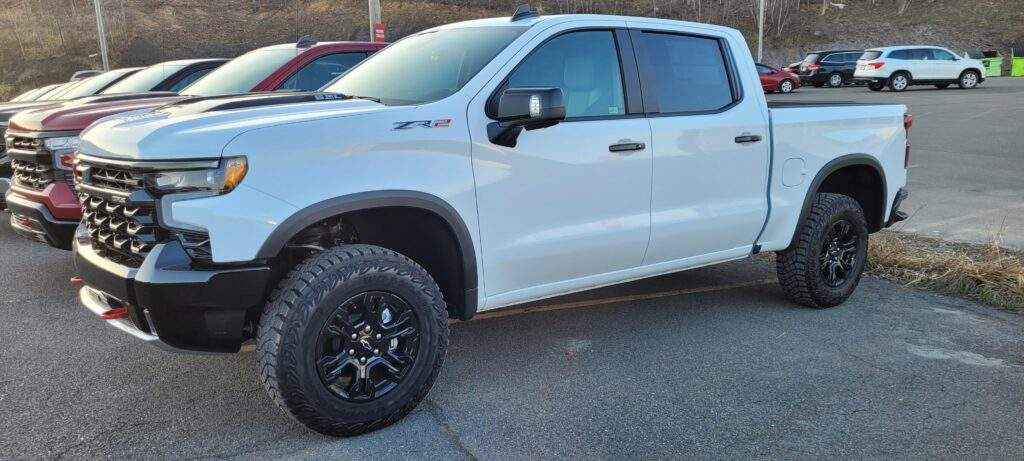 Chevrolet Silverado
Let's talk about it and see if this is the truck for you.
Most of the GM buyers have been craving a brand new interior design that will be a good contender with the other Pickup truck owners always bragging about their trucks for their upgraded designs on a constant basis.
But we think personally the reason GM has not redesigned their interior is they just wanted to keep the chevy truck inside simply and basic as most GM buyers like the Chevrolet Silverado for that simple reason basic.
Now as far as it goes for the new GM Buyers they are looking for a new modern look into the design of the New 2021 Chevrolet Silverado to heighten their senses, so we think the time is due.
Well, most of your Chevrolet Silverado fans are going to find out some really interesting stuff that we are about to share with you.
We also found this review very interesting ourselves and you will too.
chevy silverado
Well, let's start with what's not going to be new and what they will be deleting from the Chevrolet Silverado 1500 truck.
Deletions for the chevrolet silverado 1500
(B59) Remote Start Package
(XFE) Fuel Economy Package
(PDL) LTZ Texas Edition
(PCR) RST Value Package
(PCQ) LT Value Package
(PDA) Texas Edition
(NZT) 20″ x 9″ Painted Aluminum With Machined Face and Grey Accent Pocket Wheels
(MCY) USB Port
(UVI) Trailer Camera Package
(Q3T) TailGate
(A52) Front 20x40x20 Split Bench Seat
(GPJ) Canjun Red TintCoat
(G2X) Havana Brown Metalic
The New Additions For The Chevrolet Silverado 1500
(GB8) Mosaic Black Metallic
(GNK) Oxford Brown Metallic
(GSK) Cherry Red TintCoat
(RGE) Safety Essential Package available on work truck (1WT) custom (1CX) and Custom Trail Boss (2CX)
(PDD) AllStar Edition Plus
(PDY) LTZ Premium Texas Edition
(PDP) Texas Edition Plus
(BFK) (BKE) Carpeted Floor Liners
(QFV) LT265/60R20 MT Blackwall Goodyear Wrangler Territory tires
Wireless Phone Projection for Apple CarPlay and Android Auto
Performance
4.3L EcoTec3 V6 engine
Standard2.7L Turbo engine
Available5.3L EcoTec3 V8 engine
Available5.3L EcoTec3 V8 engine
Not Available3.0L Duramax Turbo-Diesel I6 engine
Not Available6.2L EcoTec3 V8 engine
Not Available6-speed automatic transmission
Standard8-speed automatic transmission
Available10-speed automatic transmission
Technology
When it comes to the technology the new Chevrolet Silverado will not disappoint with things like Apple CarPlay and Android Auto combined with a built-in 4G LTE Wi-Fi Hotspot (data plan is required).
Silverado helps keep you connected from the busy work week to the adventurous weekend ahead.
There is also the available Heads Up Display for those of you who are looking for all the stuff like your vehicle's speed, safety alerts, and available navigation displayed right on your windshield as your moving along down the road.
Interior Space
The new Chevrolet Silverado comes with more space than the previous models to keeping all its occupants happy for the ride.
Now the occupants are now given more shoulder room and legroom for their enjoyment of feeling like they are riding in a well-suited open space.
Flexible Tailgate
The new tailgate is for those of you who are looking for ways to make your work smarter not harder when it comes to loading and unloading your Silverado.
It will come with 6 multifunctions of showing you how easy it will be to load, unload, and securing your cargo, and making it more accessible than ever before.
The tailgate also comes with a first industry power-up/down tailgate as an option as well for its future customers for the Silverado.
The Truck Bed
The truck bed will now come with more LED lights than ever before.
There are corner pillar lights pointing towards the front of the box, cab-mounted lights of course as well as lights in the areas of the hitch areas to help you light up your truck bed in the night.
This truck bed also will have 12 standard tie-downs and that's 3 more than the other truck manufacturers as of the time of this writing.
Conclusion
The Chevrolet Silverado offers so much in technology, safety, payload, also can pull heavy loads and comfort it's hard not to consider that this is not the truck for you as its one of the best trucks that last the longest.
For those who are looking for a great power train for those who need lots of power or those who just need a town or city truck for everyday light duty needs then this will be a great choice for you.
The standard model right up to the luxury model is something that will make every buyer feeling like a kid all over again.
When it comes to picking the right truck, the Silverado will not disappoint and we are sure you will love to have one parked in your driveway.
We hope you enjoyed this post on Chevrolet Silverado