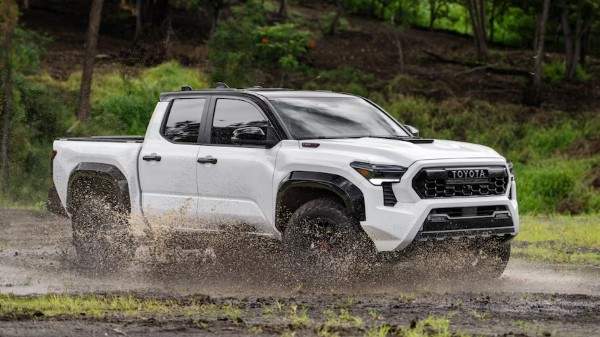 Get Ready for the 2024 Toyota Tacoma – A Robust and Rugged Pickup Truck
For truck enthusiasts and drivers who crave robust performance, go-anywhere toughness, and reliability, one pickup reigns supreme – the Toyota Tacoma.
This truck is designed to perform in the toughest terrains and most challenging conditions, and it is tailor-made for drivers seeking adventure and versatility.
Let's look at some of the features that make the 2024 Toyota Tacoma a worth-considering option for truck buyers!
Refreshed Exterior and Interior
The 2024 Toyota Tacoma is set to receive a refresh to its exterior and interior design.
This refresh could give a sportier look and feel to the truck that will turn heads.
The interior will also get some upgrades, making it more ergonomic, spacious, and comfortable
The 2024 Tacoma will come with an updated exterior design, which includes new headlights, taillights, a new grille, and an all-new tailgate.
According to Toyota, the tailgate is more durable, and the new design reduces the weight of the truck.
The bumper and fenders will also be updated to give the truck a more aggressive look.
Improved Powertrain and Efficiency
The 2024 Tacoma will most likely have an updated powertrain.
Toyota Develops New Engine with Improved Power Potential from what we are seeing shared.
Hybrid Powertrain Option
One of the biggest changes coming to the 2024 Toyota Tacoma is the introduction of a hybrid powertrain option.
Toyota will use the same hybrid system they're currently using in the RAV4 and the Highlander.
The standard engine is expected to be a V6 engine that delivers exceptional horsepower and acceleration.
Increased Towing Capacity
Toyota is expected to make significant changes to the suspension and frame of the 2024 Tacoma to increase the towing capacity.
The current 2023 Tacoma has a towing capacity of up to 6800 pounds.
However, with the new changes, the Toyota Tacoma towing capacity is expected to increase to a maximum of 8000 pounds possibly but the base model will handle 6500 pounds.
This makes it an ideal truck for drivers who need to tow heavier loads and equipment.
Increased Comfort and Convenience
The interior of the new Tacoma will be revamped to provide more comfort and convenience.
Expect to find higher-quality materials, improved climate control, and more USB charging ports.
Furthermore, the new Tacoma will have an improved suspension system that will improve ride quality, especially when driving off-road.
Customizability and Options
Toyota understands that truck buyers love to personalize their vehicles, and the 2024 Tacoma is no exception.
The new Tacoma will come with several customizable options, including different wheel/tire options, various bed lengths, and interior trim options.
Toyota plans to provide an Adventure package, which includes off-road qualities such as skid plates, all-terrain tires, and an enhanced suspension.
Upgraded Technology and Safety Features
The new Tacoma will come with various tech and safety features such as a more extensive touchscreen display, an HD rearview camera, and Apple Carplay/Android Auto compatibility.
Moreover, the new Tacoma will have Toyota's latest safety suite, which includes lane departure warning, adaptive cruise control, and automatic emergency braking.
Off-road Capabilities
Get ready to tackle any terrain with the upcoming 2024 Toyota Tacoma.
Renowned for its off-road prowess, the latest model will take it up another notch.
With a bolstered chassis and top-notch suspension system, this truck is built to conquer any obstacle and deliver unmatched off-road capabilities.
It will also come with upgraded tires and wheels, skid plates, and other features that make it ready for any terrain.
Safety Features
Like all Toyota vehicles, the 2024 Toyota Tacoma will come packed with safety features.
Get ready to hit the road with peace of mind – the upcoming truck from Toyota is set to come equipped with Toyota Safety Sense, a comprehensive suite of cutting-edge safety features.
Keep your passengers safe and secure on the highways and byways with our advanced safety features.
Experience a forward-collision warning system, automatic emergency braking, lane departure warning, and adaptive cruise control in one sleek package.
Drive with confidence knowing that you can depend on our safety technology.
It will also feature a blind spot monitoring system, rear cross-traffic alert, and other advanced safety features that provide drivers with increased confidence on the road.
Conclusion
The upcoming 2024 Toyota Tacoma promises to be a standout pickup truck in the competitive midsize market. With top-of-the-line features and performance, it's sure to impress.
With its refreshed exterior and interior, hybrid powertrain, increased towing capacity, advanced safety features, and off-road capabilities, it is sure to satisfy the needs of drivers who want a tough, reliable, and versatile truck.
The 2024 Toyota Tacoma is set to release in late 2023, so drivers should get ready to experience the power and performance of this menacing machine.
We hope you enjoyed this post on Get Ready for the 2024 Toyota Tacoma – A Robust and Rugged Pickup Truck