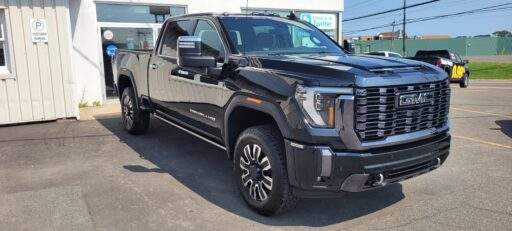 A Closer Look at the GMC Sierra: Built to Impress
To truck enthusiasts, the GMC Sierra needs no introduction as the brand reputation of GMC speaks for itself.
The GMC Sierra is a truck that has earned its place in the truck segment for being dependability, power, and performance.
The GMC Sierra is always ideal for your business, to haul heavy loads on highways or muddy trails, and for weekend getaways too.
The GMC Sierra offers great style, comfort, and towing capacity for those looking for a full-size truck to do its job.
However, it is not always easy to make the right choice when selecting your next truck so knowing how much of a truck you need is always good when selecting one.
Engine Options
The GMC Sierra is a highly reliable and powerful truck with excellent engine capability as you can select from multiple powertrain trim levels.
It comes with a variety of engine options, from the 3-liter Duramax diesel, or even the V-8 gasser options up to the V-8 Duramax diesel as well.
It is possible to pick a 3-liter Duramax diesel engine with 305 horsepower with 495 ft-lb of torque or go for a 5.3-liter V8 engine, which can produce 355 horsepower and 383 ft-lb of torque of the towing ability if you choose this option.
Maybe you would like the 6.2 liter or the 6.6 liter V8 or go all in with the higher diesel Duramax engine
Towing and Hauling Capacity
The truck comes with an impressive maximum towing capacity of 13,200 pounds for the half-ton trim level the 3/4 ton can tow up to 22,070 lbs or go with the 1-ton model capable of 36,000 lbs of towing, making it highly efficient even when towing heavy loads.
The maximum payload capacity is up to 7,290 pounds for the 1-ton trim level, making it easy to transport all your heavy materials with the GMC Sierra.
Comfort and Convenience
The GMC Sierra comes with an impressive interior that is designed to provide maximum comfort and convenience for its occupants with trim levels from cloth to leather.
The truck's cabin is quiet and spacious, with enough room to keep anyone comfortable on short or even long-run trips.
The seats are highly adjustable, and there is more than enough storage space for cargo.
The interior of the GMC Sierra has been redesigned with a very impressive look at feel and was really quite overdue for a change.
It features premium materials and a spacious cabin, which can comfortably accommodate up to 5 passengers two in the front and 3 in the back.
Safety Features
Some of the safety features include automatic emergency braking, lane departure warning, adaptive cruise control, and a surround-view camera with over 16 settings for viewing which comes in really handy when you towing and hauling.
The safety features make the GMC Sierra one of the safest trucks in this segment with all the stuff mentioned above along with the multi-way tailgate you can also get.
Versatile Cargo Space
The GMC Sierra's cargo space is highly versatile and customizable, thanks to its innovative cargo management system.
This system includes movable tie-downs, which allow you to secure cargo in any position, as well as removable upper tie-down hooks, which provide additional flexibility.
The Sierra also features a standard bedliner, which helps to protect the truck bed from scratches and dents.
Advanced Technology
The GMC Sierra comes with a 13.4-inch infotainment system and a 12.3-driver digital information panel, which features Apple CarPlay and Android Auto connectivity, as well as a premium Bose sound system, which provides exceptional audio quality.
The Sierra also comes with a very impressive head-up display with lots of detail, which displays important information, such as speed, navigation directions, and safety alerts, directly in your line of sight.
Conclusion
The GMC Sierra stands out as one of the best trucks in its segment with its impressive engine options you can choose, great towing and payload capacity, as well as all the safety stuff from multiple camera views to its awesome rear tailgate functions.
If you're considering purchasing a truck, the GMC Sierra should be at the top of your list.
It delivers an optimal experience for both the driver and passengers by offering unbeatable comfort and convenience without compromising power and performance while under payload and towing duties.
We hope you enjoyed this post on A Closer Look at the GMC Sierra: Built to Impress