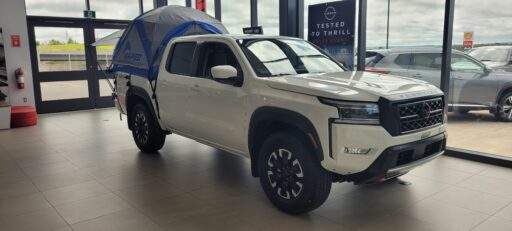 The Best Trucks For Camping Our 9 Top Picks
Adventure seekers, check out our top-rated trucks equipped with all the essential features for your next trip!
Say goodbye to worries about the perfect camping vehicle – these reliable trucks for camping will get you to your destination in style.
| Truck Model | Towing Capacity (lbs) | Payload (lbs) | Key Features |
| --- | --- | --- | --- |
| Ford F-150 | Up to 14,000 | 2,455 | Spacious interior, quiet cabin, tow capacity, SuperCrew option |
| Jeep Gladiator | Up To 7,700 | 1,710 | Removable top and doors, spacious cabin, ample truck bed, off-road capabilities |
| Toyota Tacoma | Up to 6,500 | 1,709 | Versatile, rooftop tent option, 4-cylinder engine |
| Ram 1500 | Up to 14,000 | 2,300 | Roomy interior, excellent towing capacity |
| GMC Sierra 1500 | Up to 14,000 | 2,280 | Spacious interior, optional CarbonPro bed, quiet ride |
| Chevrolet Colorado | Up to 7,700 | 1,684 | Versatile, GearOn storage system, off-road capability |
| Honda Ridgeline | Up to 5,000 | 1,600 | In-Bed Trunk, comfortable cabin |
| Ford Ranger | Up to 7,500 | 1,805 | Powerful engines, spacious cabin, strong towing capacity |
| Nissan Frontier | Up to 3,500 | 1,620 | Off-road performance, basic but comfortable cabin |
Ford F-150
The Ford F-150 has plenty of interior space for passengers and gear and can also tow a significant amount of weight with up to 14,000 lbs when properly equipped.
It's quiet cabin and smooth ride make it an excellent choice for long camping trips.
You can also opt for the SuperCrew cab, which provides extra legroom and cargo space.
Jeep Gladiator
For one of the standout features of the Jeep Gladiator is its removable top and doors, allowing you to connect with the surroundings like never before.
Picture yourself camping under a star-studded sky, listening to the sounds of crickets chirping, and feeling the gentle breeze against your skin – all while resting comfortably in your Gladiator's spacious cabin.
With this truck, every camping trip becomes an opportunity to truly become one with nature.
But the versatility doesn't end there.
The Gladiator's truck bed provides ample space to stow camping gear, from tents and sleeping bags to portable grills and coolers, ensuring you have everything you need for a seamless outdoor adventure.
Plus, the Jeep Gladiator's powerful towing capacity allows you to bring along your favorite toys, whether it's a couple of dirt bikes, kayaks, or even a small camper trailer.
On the trails, the Gladiator's robust suspension and four-wheel-drive system will conquer challenging terrains with ease, allowing you to access those hidden camping spots that are far from the crowds.
So, whether you're camping by a serene lake, setting up camp amidst towering trees, or enjoying the tranquility of a mountain summit, the Jeep Gladiator will be right there with you, proving to be a reliable and exciting companion for all your camping escapades it comes to camping the jeep gladiator can get you to your trails in no time with its four-wheel drive capabilities for off-roading.
Toyota Tacoma
Unlock Your Adventurous Side with the Toyota Tacoma's Impressive Off-road Capabilities and Towing Power.
It is also great for camping due to its versatility and durability.
Additionally, the Tacoma comes with an optional rooftop tent that makes camping more comfortable and convenient.
Experience the thrill of adventure with our powerful 4-cylinder engine truck, boasting an impressive 159 horsepower.
This beast of a vehicle can confidently tow up to an incredible 6,500 pounds, making it the perfect choice for your next camping trip.
The Tacoma comes with a spacious cabin and an infotainment system that is easy to use.
Ram 1500
The Ram 1500 is a full-size pickup truck known for its superior comfort and excellent towing capacity with up to 14,000 lbs and a payload of 2,300 lbs for camping gear.
Experience a roomy and cozy interior, ideal for extended camping adventures.
GMC Sierra 1500/Silverado
The GMC Sierra 1500 is another excellent choice for camping due to its spacious and well-equipped interior.
It has great payload as well at 2,280 lbs for camping gear.
It offers a quiet and smooth ride, which is ideal for long trips.
The Sierra 1500 also comes with an optional CarbonPro bed, which is a lighter and more durable bed liner to help protect the bed for extra toughness when in use.
Chevrolet Colorado
The Chevrolet Colorado is a midsize pickup truck that is perfect for camping due to its versatility and capabilities.
Looking for a reliable and spacious vehicle for your next camping trip? Look no further than the vehicle with a towing capacity of 7,700 lbs.
Enjoy comfortable and roomy interiors, and make sure you don't leave anything behind with all that space.
Get ready for your next adventure with a vehicle that's built to last and ready to take on any road.
Colorado also comes with an optional GearOn storage system, which provides you with an organized and secure space to store your gear.
Get ready for serious strength with the standard 2.7-liter four-cylinder engine in this truck, packing an impressive 310 horsepower.
The Colorado cabin is comfortable and spacious, making it perfect for long drives.
The truck boasts impressive off-road capability, ideal for adventure-seekers and those who love to explore.
Honda Ridgeline
Check out the Honda Ridgeline.
The Ridgeline is up for any challenge, thanks to its impressive towing capacity of up to 5,000 pounds.
No matter the load size, this vehicle is ready to tackle any hauling task.
The Ridgeline has a spacious and comfortable cabin, making it perfect for long drives.
Discover the innovative In-Bed Trunk feature, a state-of-the-art storage compartment embedded in the truck bed.
Its exclusive design maximizes storage space while keeping your belongings secure and organized.
Ford Ranger
The Ford Ranger is a mid-size truck that offers a range of powerful engines.
The Ranger can tow up to 7,500 pounds and a payload of 1,805 lbs for camping gear, making it one of the strongest trucks in its class so it would also work nicely for your camping fun.
No matter if you're transporting hunting or camping gear, or going on a weekend boat trip, the Ranger is the solution you need.
The truck's cabin is also spacious for a midsize truck that will make those in the front and back seat a comfortable ride on those weekend getaways.
Nissan Frontier
The Nissan Frontier is a compact pickup truck that's perfect for light-duty work as well as trucks for camping.
Get ready to haul with the 3.8-liter six-cylinder standard engine in the truck, standard 310 horsepower, and 281 lb-ft of torque and the capability to tow up to 3,500 pounds.
The Frontier's cabin is basic but comfortable, and the truck's off-road performance is impressive, making it perfect for outdoor enthusiasts.
Conclusion
A truck provides you with the space and capabilities you need to have a comfortable and enjoyable camping experience.
Camp in Style with These Top Truck Picks: Ford F-150, Toyota Tacoma, Ram 1500, and More!
Whether You Prefer Nissan Frontier or Chevy Colorado, You're Guaranteed a Perfect Camping Companion.
Start planning your next camping trip and enjoy all the comforts of home with your truck by your side.
We hope you enjoyed this post on The Best Trucks For Camping Our 9 Top Picks