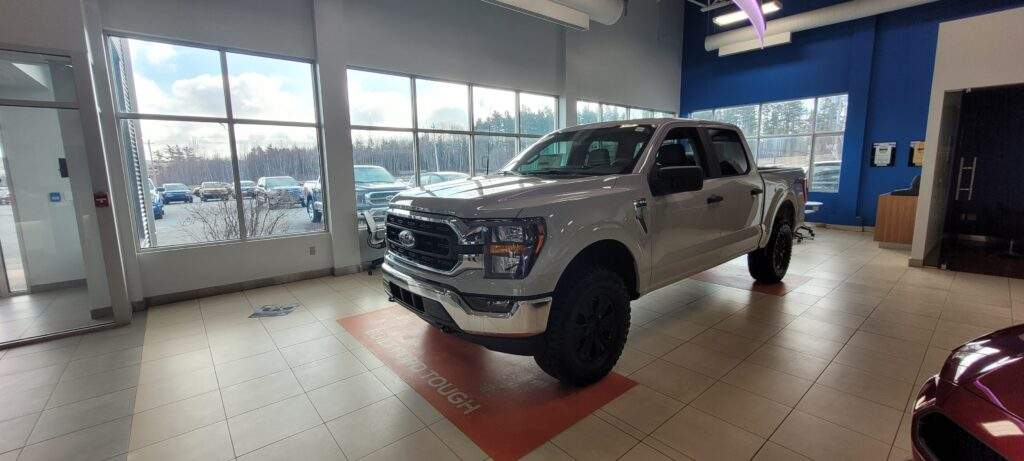 Best Half-Ton Trucks for Work and Everyday Use
Look no further than the versatile and dependable half-ton pickup.
These trucks offer an excellent combination of capability and practicality and are perfect for work and everyday use.
To help narrow down your search, we've compiled a list of the best half-ton trucks for work and everyday use.
From towing capacity to interior features, we've taken everything into consideration to bring you the top contenders in the market.
Ford F-150
The Ford F-150 dominates the market as a half-ton truck beloved by consumers for its versatility.
From work to leisure, the F-150 offers a smooth ride, impressive interior space, and notable features.
Opt for the powerful 3.5L V6 engine for a towing capacity of up to 14,000 pounds, or prioritize fuel efficiency with a turbocharged V6 engine.
Inside, the F-150 boasts a comfortable and spacious cabin complete with luxurious available features like leather seats and a heated steering wheel.
Plus, its SYNC 3 infotainment system stands as one of the most user-friendly options around.
Chevrolet Silverado 1500
The Chevrolet Silverado 1500 is another popular half-ton truck that offers outstanding capability and features.
One of the Silverado's standout features is its Duramax diesel engine, which provides both power and efficiency.
Properly equipped, the Silverado 1500 can tow up to 13,200 pounds.
The Silverado truck provides a comfortable and convenient everyday driving experience with its roomy cabin and easy-to-use infotainment system.
These features make the Silverado not only a great work truck but also a safe everyday vehicle for you and your family.
Ram 1500
The Ram 1500 is a highly capable half-ton truck that delivers excellent performance and comfort.
The truck offers a smooth ride and is available with several engine options, including a V6 engine that delivers an impressive 305 horsepower.
Experience incredible power with the Ram 1500 and its formidable 5.7L V8 engine, capable of towing an impressive 14,000 pounds.
That's not all – the luxurious interior of the Ram 1500 is worth mentioning too.
It's one of the poshest in its class, complete with available leather seats and wood accents.
Experience the ultimate driving luxury with its remarkable 12-inch touchscreen infotainment system – the biggest on the market. Adding that extra touch of elegance, it's a perfect finishing touch.
Drive in style and comfort with this mighty truck.
Toyota Tundra
Looking for a truck that can handle heavy work without breaking down?
Look no further than the Toyota Tundra, renowned for its unbeatable reliability and strength.
Experience the power of the Tundra with its impressive V8 engine generating 381 horsepower and 401 lb-ft of torque. Plus, it can effortlessly tow up to 12,000 pounds.
Get ready to experience true power and durability with the Toyota Tundra.
The Tundra's spacious cabin and user-friendly features also make it ideal for everyday use.
One of the Tundra's standout features is its reputation for reliability.
Looking for a dependable truck that will last for years?
Look no further than the Tundra, which consistently receives high marks for reliability.
Though it may not have the fanciest interior compared to its competitors, the Tundra still offers a comfortable and functional space for all your work and play needs.
GMC Sierra 1500
The GMC Sierra 1500 is a well-rounded half-ton truck that offers plenty of capability and features.
Learn about the multiple engine options available with their top-of-the-line trucks, such as its incredibly fuel-efficient turbocharged 2.7L engine.
When properly equipped, the Sierra 1500 can tow up to 13,200 pounds.
Experience a daily drive like no other with our spacious truck cabin and user-friendly infotainment system.
The Sierra's interior is also worth noting, as it offers a spacious and comfortable cabin with plenty of technology features.
The available MultiPro tailgate is a unique feature that provides multiple configurations for loading and unloading cargo, making the Sierra a highly versatile truck for both work and play.
Conclusion
The Best Half-Ton Trucks market is full of excellent options that offer both capability and practicality.
Explore top-quality brands like Ford F-150, Chevrolet Silverado 1500, Ram 1500, Toyota Tundra, and GMC Sierra 1500 that dominate the market.
These trucks represent the ultimate in quality and performance for your tough jobs and off-road adventures.
When choosing a half-ton truck, consider your specific needs and priorities to find the perfect balance of features and capabilities.
No matter what you choose, a half-ton truck is sure to provide the power and versatility you need for both work and everyday use.
We hope you enjoyed this post on Best Half-Ton Trucks for Work and Everyday Use