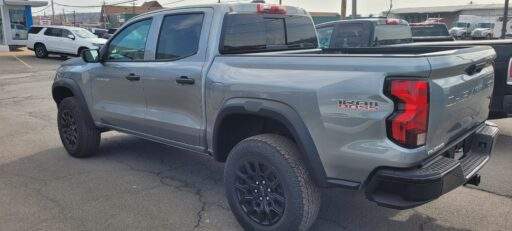 What Are The Most Economical Pickup Trucks
2021 Ford Ranger
2021 GMC Canyon
GMC Sierra 1500
Ford F-150
Ram 1500
Honda Ridgeline
2021 Chevrolet Colorado
Toyota Tacoma
2021 Chevrolet Silverado 1500
most efficient pickup trucks
For many pickup truck shoppers, fuel economy is a top priority alongside the truck's strengths like towing and hauling power.
Thankfully, modern pickup trucks are capable of better fuel economy than many drivers might expect.
This is truer, considering that the same tech and engine advances that have helped other vehicles become more fuel-efficient are increasingly mainstreaming in the truck segment.
If you are in the market looking for a capable, functional pickup truck with a reasonably good fuel economy, look no further.
This article reviews some of the most economical pickup trucks you can find in the market today. Keep reading!
2024 Ford Ranger
The Ford Ranger is one of the best-selling pickup trucks, and for a good reason. First off, it has a higher EPA combined fuel economy estimate than most non-diesel midsize pickup trucks.
With its compact and efficient yet powerful 270-hp 2.3-liter turbocharged four-cylinder engine, the 2024 Ford ranger is estimated to deliver 23 mpg combined and up to 26 mpg on the highway.
That said, it is good to note that a Ranger will struggle to hit EPA numbers in the real world because turbocharged motors struggle with fuel economy when stressed on highways.
The entry-level 2WD XL SuperCab starts at $26,015 and can tow up to 7,500 pounds. You will also find Ford's latest infotainment system with an 8-inch touchscreen.
2021 GMC Canyon
The 2021 GMC Canyon is a great midsize pickup truck that offers a rear combination of strength, comfort, and style. Essentially, it is a slightly more upscale version of Chevy Colorado, though they share the rugged frame.
Canyon offers a quiet ride and secure handling for a more pleasant driving experience. Talking about fuel economy, the GMC Canyon can return up to EPA-estimated 23 mpg combined and an impressive 30 mpg on highways.
This fuel economy figure comes courtesy of Canyon's 2.5-liter 4-cylinder engine. The truck also has great towing and hauling capabilities.
We also just released this article that you may like as well What Size Truck Bed Should I Get For My Truck
GMC Sierra 1500
The GMC Sierra 1500 is a luxurious full-size pickup truck offering a spacious, quiet cabin and a cushioned ride.
Buyers have a wide range of engines to choose from, but the most fuel-efficient options are models featuring 2.7-liter turbocharged engines paired with 8-speed automatic transmission and those with 3.0 turbo-diesel inline-six engines.
Although you will be paying more upfront for some extra features, you will get a capable truck with a powerful engine that returns 21 mpg combined.
In addition, the Sierra can tow up to 11,800 pounds.
Ford F-150
The Ford F-150 has been the top-selling pickup truck for decades, thanks to its affordability, advanced, user-friendly tech features, incredible drivetrain configurations, comfortable interior, and impressive fuel economy, which makes it excellent for daily driving.
For drivers looking for an inexpensive, economical pickup truck, the Ford F-150 has been redesigned for 20121.
It comes with a PowerBoost hybrid powertrain pairing a twin-turbocharged 3.5-liter gasoline V6 engine and a 47-hp electric motor, which ultimately returns an impressive 25 mpg combined fuel economy.
You can imagine owning a truck that cranks out a formidable 430 horsepower and 570 pound-foot of torque – this is possible with Ford F-150.
Ram 1500
The Ram 1500 is one of the most comfortable pickup trucks you can buy today. It is roomy with an upscaled interior and rides with the confident comfort of a sedan.
What is more, it is fuel-efficient with an EPA estimate of 23 mpg combined.
This fuel economy figure is attributed to Ram's standard 3.6-liter Pentastar V6 engine, which cranks out 305 horsepower and 269 pound-foot torque.
Although it doesn't break payload and towing records, the numbers are still respectable.
Honda Ridgeline
The Honda Ridgeline does things a little differently than the rest of the pickup trucks segment.
Unlike most trucks with a body-and-frame construction, Honda Ridgeline has a unibody design, which gives it an SUV-like handling, a quieter ride, and admirable fuel economy.
Although the Ridgeline lacks rival's towing and off-roading capabilities, it comes with a 9-speed automatic transmission and powerful 3.5-liter V6 engine that returns a fuel economy of 21 mpg combined.
2021 Chevrolet Colorado
The Chevrolet Colorado is a midsize pickup truck perfect for shoppers who want a basic truck that will get the job done.
Diesel enthusiasts who want to save on fuel can choose the Work Truck model, which comes with a 2.5-liter four-cylinder engine and six-speed automatic transmission.
Although its figures don't come near the towing and hauling capabilities of other powertrains, it has an impressive fuel economy of 22 mpg combined and up to 25 mpg on the highway.
Starting at $26,395, the Chevrolet Colorado comes with excellent interior space and an intuitive infotainment system, featuring Android Auto, Apple CarPlay, and a 7-inch touchscreen.
Toyota Tacoma
The Toyota Tacoma is a class leader in a midsize pickup truck segment offering a rare combination.
With its comfortable interior and rugged components, Tacoma is safe and genuinely an off-road champion.
The most fuel-efficient version of this capable, trail-ready truck is the base model, which comes with a 159-hp 2.7-liter four-cylinder engine. It has EPA ratings of 19 mpg in the city, 22 mpg on the highway, and 20 mpg combined, but many drivers say it is incredibly underrated.
If it can still get better with fuel economy for its towing and hauling power, it can be a great option for many.
2021 Chevrolet Silverado 1500
This is a capable, full-size pickup truck. It is strong enough for most jobs and has an excellent fuel economy.
With a rear-wheel drive, 8-speed automatic transmission, and the turbocharged 2.7-liter four-cylinder engine, Chevrolet Silverado 1500 returns fuel economy of 20 mpg in the city and 23 mpg on the highway.
Conclusion
Modern life presents its own challenges.
That said, it will be better if you can run a pickup truck more efficiently and enjoy the pleasures of driving a powerful, capable truck while saving money on fuel.
With this list of the most economical pickup trucks, you should find it easier to shop for a truck that has impressive fuel economy.
Above everything, make sure to balance your need for rugged capability with practicality.
We hope you enjoyed this post on What Are The Most Economical Pickup Trucks