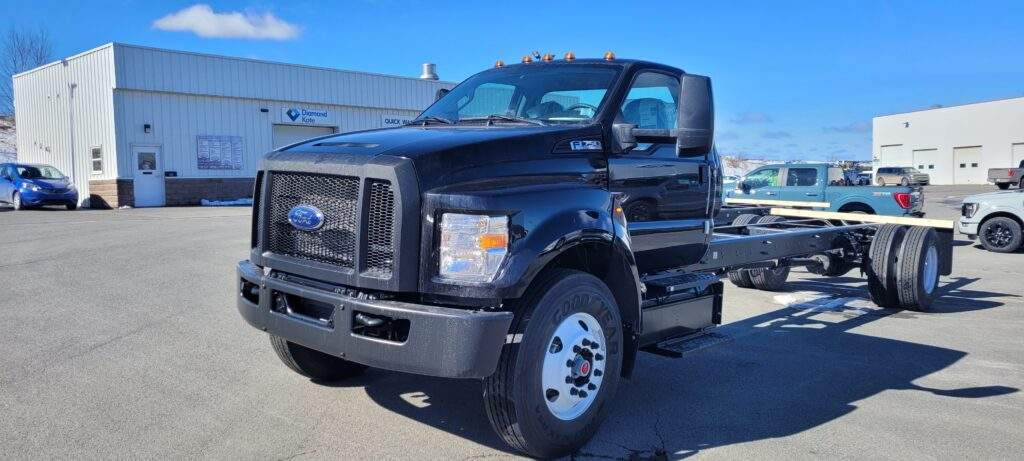 What Is A F750 Ford Truck
The Ford F750 truck is a heavy-duty commercial vehicle designed to provide long-term durability, power, and versatility. It's been introduced since 2000 and has quickly become a favorite of commercial drivers and truck enthusiasts alike.
Ford F-750 is the powerhouse of heavy-duty trucks – blending power and fuel economy for an unbeatable ride. Enjoy a big performance without breaking your budget!
This compact yet mighty machine offers an unbeatable combination of performance and portability, making it the ideal work companion for anyone looking to get results.
Here we'll discuss the basics of what makes the F750 so unique and why it's one of the most sought-after trucks on the market today.
Engine Options
The Ford F750 is available with several engine options including a 6.7L Power Stroke V8 Turbo Diesel engine with 270 HP, 700 Lb.-Ft of Torque, and an optional 6.7L Power Stroke V8 Turbo Diesel 300 HP, 725 Lb.-Ft. of Torque or even 6.7L Power Stroke V8 Turbo Diesel – 330 HP, 750 lb.-ft.
These engines are designed to provide powerful performance while still delivering excellent fuel efficiency.
No matter which engine you choose, you can be sure that your F750 will get the job done right every time!
You may also like this article What Size Engine Should I Get For My Truck.
Cab Configurations
The Ford F750 is available in three different cab configurations: regular cab, crew cab, and super cab.
The regular cab features seating for up to three passengers while the crew cab offers seating for up to six passengers (including the driver).
The super cab offers seating for up to five passengers with additional storage space behind the seats for tools or other equipment.
No matter which cab configuration you choose, you can be sure that your F750 will be able to accommodate all your needs!
Ford F750 Towing Capacity
The Ford F750 truck is a heavy-duty truck designed to offer truckers and consumers an increased towing capacity.
This truck has a gross combined weight rating of up to 37,000 pounds, allowing truckers and drivers to haul sizable loads with ease.
With its durable and reliable features, the Ford F750 truck ensures efficiency when it comes to loading and unloading goods.
Consumers can trust this truck for all their towing needs as it delivers capability from the driveway to the work site.
We also just published this article on Some Full Size And Mid Size Trucks With The Highest Towing Capacity.
Durability & Capability
The Ford F750 is built tough in order to handle any job thrown at it.
With its formidable payload and GVWR of 37,000 lbs and expansive 12-foot cargo box length allowing for easy hauling even the most generous loads – this vehicle is designed to handle it all!
Plus, its durable frame provides superior strength so that you can depend on your truck no matter what conditions you're driving in or how heavy your load is!
The F-750 is available in two cab configurations – Regular Cab and SuperCab – giving you the option to choose between more seating or more storage space based on your needs.
It also offers several trim levels including XL, XLT, Lariat, and King Ranch® models so you can customize the look and feel of your truck.
The exterior of the F-750 is made from galvanized steel which ensures longevity even under harsh weather conditions and rigorous use.
Conclusion:
The Ford F-750 is an impressive heavy-duty truck that offers big power with great fuel efficiency in an affordable package.
With its powerful engine options, versatile cab configurations, and advanced technology features, this workhorse has everything you need to tackle any job with confidence and ease.
Whether you're hauling cargo across town or off-roading through tough terrain – the Ford F-750 has got you covered!
We hope you enjoyed this post on What Is A F750 Ford Truck