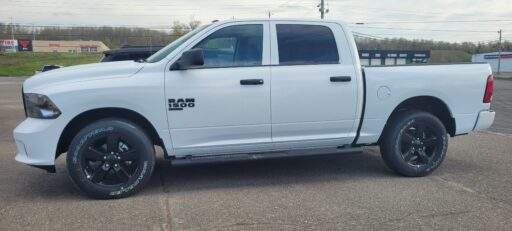 Best Truck For Towing Most Trailers
If you're looking to buy a new truck and use it for towing, it's important to understand the differences between the various models available.
The best truck for towing depends on your needs. Do you haul heavy loads with your truck? Are you planning a long trip? Do you have any concerns about safety?
The right vehicle can help you get the most out of your towing experience.
Here are some things to consider before buying a truck:
Tow Capacity
The maximum weight that your truck can tow safely.
Payload Capacity
How much weight the truck can carry without exceeding its limit you will find this on the inside driver's door post stamped by your manufacturer.
Maximum Towing Capacity
The maximum weight that your truck can tow, including its own weight and any cargo or passengers on board, and you, will also find this stamped in the same location of your driver's door post area.
We also just published this article What Truck Gets The Best Gas Mileage While Towing
Best Truck For Towing
Ford F-150
The Ford F-150 is one of the most popular trucks on the road today.
It's been around for years and continues to be one of the best options for both work and play.
The F-150 comes in many different trims with both gas and diesel engines.
The gas models are either V8 or V6 engines while diesel models only come with V6 engines, but they're plenty powerful enough for any job.
There are currently six engine options for the F-150 and they are designed to full fill your needs for what you need it to do.
towing capacity of f150
3.3 Liter V6 290 Horse Power Torque is 265 lb-ft max towing 8200 lbs
2.7 Liter V6 Ecoboost 325 Horse Power Toque is 400 lb-ft and towing 10,100 lbs
5.0 Liter V8 400 Horse Power Torque is 410 lb-ft towing 13,000 lbs
3.5 Liter V6 Ecoboost 400 Horse Power Torque is 500 lb-ft towing 14,000 lbs
3.5L PowerBoost full hybrid V6 Horse Power 430 Torque is 570 lb-ft towing 12,700
High-output 3.5L EcoBoost V6 Horsepower 450 Torque 510 lb-ft towing 8200 lbs
The best towing capacity for the F-150 is the 3.5 V6 Ecoboost at 14,000 lbs.
Ram 1500
The Ram 1500 is another one of those great American light-duty trucks that can move a good size load when you need it for towing a trailer or even just that boat to the lake.
Ram offers you a great selection of power plants for you ram 1500 buyers to place in your garage.
1500 ram towing capacity
3.6 Liter Pentastar V6 Horse Power 305 Torque 269 lb-ft towing 7,730 lbs
5.7 Liter Hemi V8 Horse Power 395 Torque 410 lb-ft towing 11,610 lbs
3.0 Liter Ecodiesel Horse Power 260 Torque 480 lb-ft towing 12,560 lbs
5.7L HEMI V8 with eTorque Horse Power 395 Torque 410 lb-ft 12,750 lbs
1500 dodge ram towing capacity
So as you can see, when it comes to the ram 1500 you really do have a great choice of power plants to choose from when it comes to the towing capacity you are looking for.
Chevrolet Silverado
For those who are just plan old diehard Silverado owners then the Chevrolet Silverado will not disappoint when it comes to performing well with their towing powerhouse.
When you need an excellent towing vehicle then the Silverado will do that and more as they are again one of the leaders in the light-duty segment.
Silverado towing capacity 1500
2.7L Turbo with Active Fuel Management Horse Power 310 Torque 420 lb-ft towing 9,600 lbs
3.0L DuramaxTurboDiesel Engine Horse Power 277 Torque 460 lb-ft towing 9,500 lbs
5.3L EcoTec3 V-8 with dynamic fuel management Horse Power 355 Torque 383 lb-ft towing 11,500 lbs
6.2L V-8 with dynamic fuel management Horse Power 420 Torque 460 lb-ft towing 13,300 lbs
Toyota Tundra
The Toyota Tundra has come a long way with their light-duty truck and entering the ring as a competitor in the light-duty truck towing segment and with all means, I do say they are getting it right.
Now we know there are a lot of Toyota Tundra fans out there that will only buy a tundra when they are upgrading their new truck as with any loyal Toyota owner you can include them in the action as well.
Most times when a Toyota truck owner is buying a new truck it doesn't take them much to convince them especially when they are a truck Toyota owner from the get-go.
Toyota tundra towing capacity
3.5 Liter Turbo Engine Horse Power 389 Torque 479 lb-ft towing up To 12,000 lbs
5.7 Liter V8 Horse Power 381 Torque 401 lb-ft towing 10,200 lbs
V6 Hybrid Horse Power 437 Torque 583 lb-ft towing Up To 12,000 lbs
Nissan Titan
The Nissan Titan is another one of those light-duty trucks that are not only great in all aspects it does but it too can tow with the best of them.
Nissan titan towing capacity
If your looking for a great truck that has all the benefits of the Nissan and you are still looking for the great ways you can tow a trailer or your personal weekend toys, then you are not going to have to look much farther than the Nissan Titan for your choice for your tow truck.
towing capacity of Nissan titan
5.6-liter Direct Injection Gasoline Horse Power 400 Torque 413 lb-ft towing Up To 9,320 lbs
XD Version 5.6 liter Horse Power 400 Torque 413 lb-ft towing up to 10,920 lbs
best trucks for towing travel trailer
Here is the list that we think will be great for you towing your travel trailer.
F150
GMC Sierra 3500HD
TOYOTA TUNDRA
Ford F-350 Super Duty
Chevy Silverado 3500HD
Ram truck 3500
Silverado 3500
Nissan Titan
Chevrolet Colorado/GMC Canyon
Ram 1500 EcoDiesel
Ford Super Duty
Ford Raptor
2020 Ram 2500
We think for the most part any half-ton pickup with a good towing capacity can tow any midsize trailer that you are not going past the towing capacity of the truck.
Keep in mind as with most travel trailers you have got to consider the weight of the payload in them as we are confident you are not going to a campground without food and other belongings you will be loading into the travel trailer for your weekend getaway.
So remember just because your truck says it can tow up to 10,000 lbs doesn't mean to tow a travel trailer that is 10,000 lbs as you are going to have at least 2000 lbs of added cargo in that trailer.
Best Truck For Towing A Fifth Wheel
Dodge Ram 3500 With Cummings Engine
Chevy Silverado 3500HD With The Duramax Engine
Ford F-450 Super Duty With The Power Stroke Engine
GMC Sierra 3500HD With The Duramax Engine
Ford F-350 Super Duty With The Power Stroke Engine
Best Truck For Towing Camper
Ford F-450
Ram 3500
Chevrolet Silverado 3500HD
Ford F-150
Chevrolet Silverado 2500
Hyundai Santa Fe
Nissan Titan XD Edition
Conclusion
When it comes to towing with a light-duty truck you can be assured that most of the pickup trucks on this list for best truck for towing can very well serve you with no worries as long as you are following the recommended specifications from the manufacturer.
Most of these light-duty trucks can tow up to 12,000 lbs or more if properly equipped with the proper tow hitches that there are manufactured for.
If your looking to tow with your truck you have also got to remember what exactly are you going to be towing and if fuel economy is part of your decision always check with the manufacturer for the best options for what you need in a truck towing.
The light-duty truck that is made today has come a long way in its capability for towing, payloads, and fuel economy so always check what is best for you when you go to buy your next truck for towing.
We hope you enjoyed this post on Best Truck For Towing