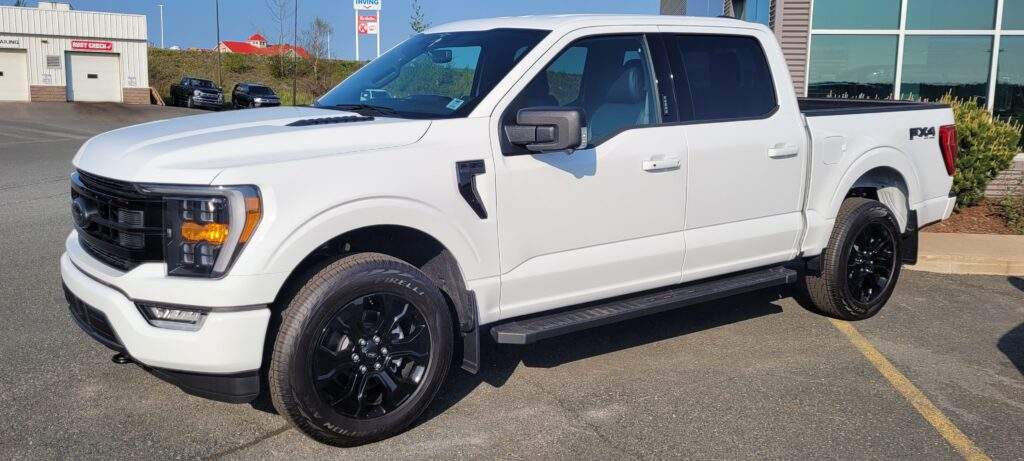 A Look at the 2024 Ford F150: What to Expect
The Ford F150 has been a popular choice for truck buyers and consumers for decades.
With its rugged exterior, powerful engine, and impressive capabilities, it's no wonder why the F150 has established itself as a top pick for many.
The 2024 Ford F150 is on the horizon and promises to bring even more to the table.
Extreme Power and Durability
The 2024 Ford F150 is expected to bring some serious improvements in power and performance.
The new F150 will have a 3.5-liter EcoBoost V6 engine, 400 horsepower, and 510 lb-ft of torque.
So don't wait – experience the ultimate in performance and power with the new F150.
Exciting news for F150 enthusiasts, as the hybrid powertrain option rumors are gaining traction.
This promising addition will elevate the already impressive power and capability of this iconic truck.
Get ready to experience the ultimate power and durability with the upcoming 2024 Ford F150.
With an all-electric drivetrain option, you'll be able to enjoy instant torque and quick acceleration, all with zero emissions.
But don't let the eco-friendly features fool you – the electric version of the F150 will still have plenty of power and towing capacity.
Increased Towing Capacity
One thing that truck buyers always look for is towing capacity, and the 2024 Ford F150 won't disappoint.
The F150 is now stronger than ever with its brand-new powertrain choices, showing an impressive boost in its ability to tow up to 13,500 pounds.
This is a significant improvement over the already impressive towing capacity of the current F150.
Improved Fuel Efficiency
With the addition of a hybrid powertrain option, the 2024 Ford F150 is expected to see improved fuel efficiency.
Early reports indicate that the new F150 is poised to deliver exceptional fuel efficiency, with an estimated highway mileage of 30 miles per gallon.
Though official figures have not yet been released, prospective buyers can expect a powerful truck that goes the distance without breaking the bank on fuel costs.
Advanced Technology
One of the biggest changes in the 2024 Ford F150 is the technology.
This truck is packed with exciting new features to make your driving experience more enjoyable and convenient.
Experience the advanced infotainment system of the F150, featuring an impressive touchscreen display and user-friendly controls.
Keep connected while on the move with the newest smartphone integration options, such as Apple CarPlay and Android Auto.
Elevate your driving experience with the premium sound system, customizable digital dashboard, and advanced driver assistance features, such as adaptive cruise control.
Experience the ultimate in modern driving technology with the F150.
The 2024 Ford F150 will not only be more powerful, but it will also feature enhanced technology.
Sleek Design
The 2024 Ford F150 will be a head-turner with its sleek and polished design.
The truck has been given a significant facelift, with a redesigned front grille and more angular headlights.
The body will be slightly larger, while the bed and tailgate have been updated with stronger materials and new features like a power-operated tailgate.
The F150's rugged exterior has not only been refined, but it's also more aerodynamic, which will enhance fuel economy and reduce wind noise.
Improved Interior
Not to be outdone by its impressive exterior, the 2024 Ford F150's interior has also been upgraded with new materials, colors, and features.
The cabin of the F150 will feature more space and comfort for passengers, while also delivering plenty of tech.
Personalize your digital dashboard by selecting the information that matters to you most. Our dashboard is fully customizable to meet your unique needs.
The F150 will also include advanced climate control, power-adjustable seats, and a panoramic sunroof.
Safety Features
The 2024 Ford F150 also comes with advanced safety features to keep you secure on the road.
Experience peace of mind on the road with our safety-packed truck.
The F150's safety features are of the highest quality, making it an excellent choice for families with young children.
Refreshed Design
While the new F150 will offer plenty of power and technology improvements, it will also feature a refreshed design with its brand new tailgate design that will be a game changer for those who love towing like campers and fifth wheels.
The 2024 F150 is expected to have a more aggressive and muscular look, with a taller front fascia and bolder lines.
Additionally, the interior of the F150 is rumored to be getting an overhaul, with premium materials and a more modern design.
Conclusion
The 2024 Ford F150 is a significant upgrade over the previous models, with a beautiful and modern design coupled with groundbreaking technology and advanced safety features.
Whether you're looking for a powerful workhorse or a comfortable family truck, the 2024 Ford F150 has something for everyone.
We are sure that you'll be impressed with the 2024 Ford F150 and all the great features that it has to offer.
If you're thinking of buying a Ford truck anytime soon, then the 2024 F150 should be at the top of your list.
We hope you enjoyed this post on A Look at the 2024 Ford F150: What to Expect