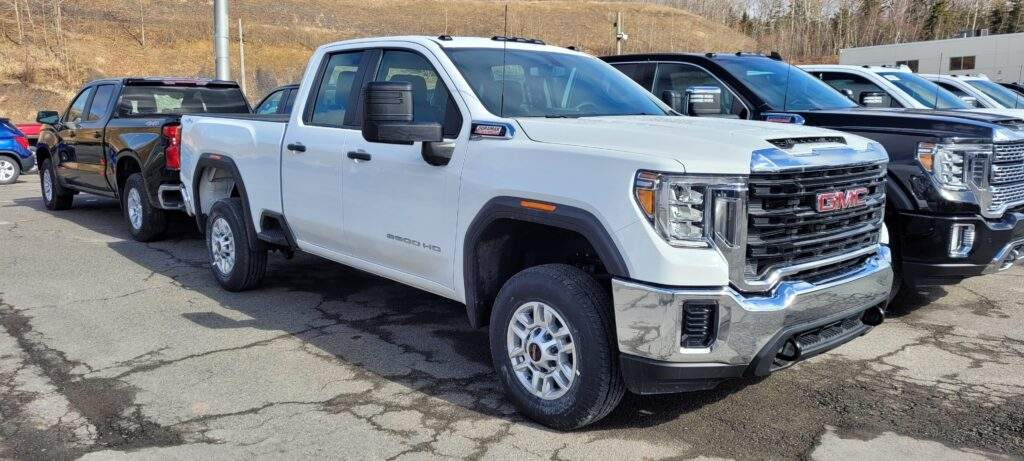 Which 3 4 Ton Truck Has The Highest Payload
If you're in the market for a 3/4 ton truck, then you've probably asked yourself the same question: which model offers the highest payload? It's a question that has been debated and discussed by truck enthusiasts for years.
The answer is, when it comes to choosing the perfect truck for your needs, the payload is one of the most important factors.
Let's take a look at three of the top contenders and find out which model is best for you.
We also just published this article on What Is A 3/4 Ton Truck you may like as well.
The Ford F-250
Ford F-250 has earned a strong reputation as one of the top 3/4 ton Ford trucks around, making it an ideal choice for those seeking power and reliability.
It offers an impressive payload capacity of 4,260 pounds.
That means you can easily haul heavy materials such as construction equipment or large furniture items without worrying about overloading your truck.
Boasting an impressive 18,500-pound towing capacity with the diesel trim level, and a sleek design, the Ford F-250 Super Duty is built for taking on any adventure.
Whether it's hauling your boat or trailer during a weekend getaway or conquering the toughest of tasks everything you need is right at your fingertips with this powerhouse truck.
Buckle up and feel the power of this 6.2L V8 engine that can propel you forward with 385 horsepower, enabling 430 lb.-ft. of pure performance!
The Chevrolet Silverado 2500HD
The Chevrolet Silverado 2500HD is another popular choice in 3/4 ton trucks that offers a competitive payload capacity of up to 3,900 pounds with some trim levels.
The Silverado has impressive power and handling capabilities that make it well suited to hauling heavy loads with ease as well.
The truck's substantial 18,400-pound towing capacity with some trim levels makes it ideal for those with the need of hauling hefty items.
The Chevrolet Silverado 2500HD boasts an impressive 3,900-pound maximum payload rating when properly equipped with its 6.6L V8 engine and 10-speed automatic transmission.
With this powerful 3/4 ton truck, you'll have no problem lugging even the heaviest of loads.
When it comes to hauling capacity, there's nothing stopping you!
Additionally, this truck comes standard with features like advanced trailering technology and trailer sway control for enhanced safety while hauling your cargo.
The Ram 2500
Last but not least is the Ram 2500 – another top contender in 3/4 ton trucks with an impressive payload capacity of 4,010 pounds and a maximum towing capacity of 20,000 pounds – making it ideal for those who need more than just cargo room from their truck.
With its impressive engine power and refined design features, this model provides both practicality and style in one package.
The Ram 2500 is another excellent choice if you're looking for a 3/4 ton truck with an impressive payload capacity rating.
This powerful workhorse has a hefty 6.7L Cummins Turbo Diesel I6 engine, allowing it to handle even the toughest of hauling jobs with ease; up to 20,080 pounds in tow and 4,010-pound payload capacity – fully prepared for any heavy lifting task!
Additionally, this truck features advanced technologies like adaptive cruise control and hill start assist which make driving easier and safer no matter where you go or what you're hauling in the bed of your truck!
Conclusion:
When it comes to finding a three-quarter-ton truck that has an impressive payload capacity rating, there are several great options out there right now from top automakers like Ford, Chevrolet, and Ram.
Get ready to haul big with the Ford F-250 Super Duty's substantial 4,620-pound payload or go with the Chevy Silverado 2500HD featuring an impressive 3,900 pounds of maximum carrying capacity when paired up with its powerful V8 engine and 10-speed automatic transmission.
Finally, the Ram 2500 is capable of towing up to 20,000 pounds with its Cummins turbo diesel engine and boasts a maximum 4,010-pound payload when properly equipped for hauling heavy loads – making it one of the most capable three-quarter-ton trucks on the market today!
No matter which option you choose from these top manufacturers – you can rest assured knowing that your new 3/4 ton truck will have all the power to handle any job!
We hope you enjoyed this post on Which 3 4 Ton Truck Has The Highest Payload